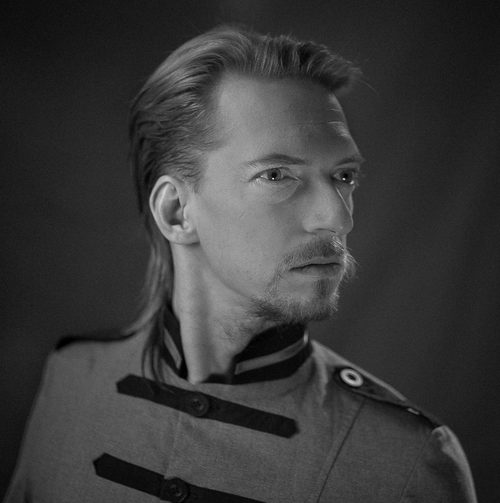 Photography by Robert Arnold.


Sneaker has been on a mission to reveal the origins of electronic music for more than twenty years now. Whether as a producer or DJ – Sneaker is doing it properly but always after careful consideration. Early on, he fell in love with Detroit and Chicago but furthermore there are the obscure italo-, new wave- and minimal-synth-gems that make his sets and 'Dunkeltier' edits special and provide his productions with that certain Sneaker-flavour.
If he doesn't reflect on dance music's history, the former student of fine arts travels extensively or shuttles between his part-time-hometowns Dresden, Jena and Berlin. He remixed classic EBM and minimal synth bands such as Twilight Ritual, Esplendor Geométrico, Absolute Body Control, S.M. Nurse and Click Click on his contributions to his harbouring label Frigio based in Madrid, Bahnsteig 23 and the Macadam Mambo Edits label from Lyon.
The pricky bomb that is 'You Think You Think!' on Uncanny Valley Rec. has enriched the sets of Daniel Bell (DBX), Crème-head TLR, Cassius, Traxx and Deetron. It was featured on the FabricLive-CD of Daniel Avery. After the collaboration 'Heteronomous' on Jacob Korns debut album (featured by Mano Le Tough in the Boiler Room and liscensed to the Future 303 compilation) he became specialiced on edits of dance (un-)classics to be witnessed on his releases on Rat Life. As one third of 'Serial Error' along with Korn and Credit 00 he contributed to the 'Our Beat Is Still New' series on 'Red D's We Play House label from Belgium. Two EPs of this studio project are following on Rat Life by the end of 2018.
In the past whirlwind years Sneaker has seen an enormous output with EPs on ULM, Lunatic, Bordello A Parigi plus numerous contributions on vinyl. 2017 we will see a new EP of his Italo project Bionda e Lupo on Charlois, box tracks on Bio Rhythm and plenty of edits on wax.
Discography on the Sneaker artist profile on Frigio Records.com
Presskit 2017 (hi-res/lo-res photos + bio in German, English and French)


General inquiries:
sneaker (at) sneakerdj (dot) com
For bookings please contact my booker Jan:
jan (at) buki-good (dot) de
In combination with Uncanny Valley artists please contact directly:
booking (at) uncannyvalley (dot) de
For bookings for Spain, Portugal please contact:
thomas (at) frigiorecords (dot) com