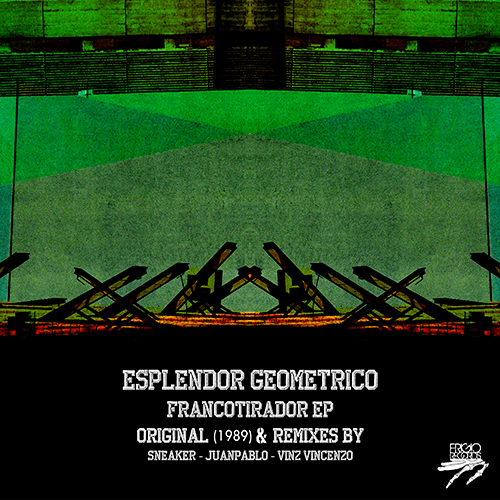 Esplendor Geometrico Remixes
Cat.no.: FRV-012
A1.Francotirador (Original – 1989)
A2. Francotirador (Sneaker´s Dunkeltier rmx)
B1. Francotirador (Juanpablo & Vinz Vincenzo rmx)
B2. Francotirador (Vinz Vincenzo & Juanpablo rmx)


Frigio is very honored to release the biggest and most important Spanish electronic project of all times "Esplendor Geometrico".
So am I to remix them. From the early 80´s until today, they´ve been delivering the most authentic, raw and powerful industrial electronics you can hear. "Francotirador" which means "Sniper" is a track recorded back in 1989 and this record includes original plus 3 remixes by Sneaker (who previously did a remix for Twilight Ritual), Juanpablo (head of Frigio Records) and Spanish producer Vinz Vincenzo. "Francotirador" is pure analogue drums with a strong "tribal industrial" approach.

Although we are big fans of EG, we must admit that we didn´t know about this song until we heard Sneaker´s remix a few years back when he felt the need to tryan even darker and versatile version of it. His remix is complimenting the original drum loop starting with rare stomping Chicagoesque drum work, switching from
demonic string-chords to male vocal staccatos, ravehits and back again, finding it's point-of-no-return in a Sartre-like fulminant ending.

On B side, Juanpablo and Vinz Vincenzo get together to create a remix with two versions. Both versionskeep the raw percussions from the original with some deep industrial sounds and added some drum elements to make it more groovy, modern and ready to burn dancefloors. Some dark vocals appear randomly to add more
flavor to this mixture that we guarantee will be very hard to describe as usual on Frigio Records.
Worldwide Distribution by Rubadub – www.rubadub.co.uk
Other inquires contact: info@frigiorecords.com
www.frigiorecords.com