In the beginning there was Jack …
Two Mind Melting Acidic Drippers That Ron Hardy Would've Been Proud Of!
Truly unhinged acid in the vein of James "Jack Rabbit" Martin's – Only Wanted To Be or The Traxxmen's – Emergency.
Resident Advisor
We are blessed that we've been picked by Detroit's FIT Siegel for the latest release of his FIT Sound outfit.
Honored being in company of the likes of Marcus Mixx, Jamal Moss, Bill Converse, Marcellus Pitman, Kassem Mosse. Andrés, Sotofett and Nina Kraviz there are two collaborations of mine featured. Both jams are 13 minute journeys through the mind or – on the flip – house music history.
On the A it's (no pun intended for those who know!) Golden Pudel resident RVDS with a syncopated 707/727 workout (me) while Richard is playing the bass by hand for all these minutes (he is a touring keyboarder in many famous Hanseatic indie bands). Only after 5 minutes a 303 is clocking in plus – and those actually make the track – eerie, haunting pads of agoraphobia on a Crumar Bit One with subtle use of the pitch wheel. The carefully edited and self-mastered session was run over a Studer A820 reel-to-reel at our Dresden-based Tail Out studio.
The B compliments the A in terms of speed, mood and feel. Recorded directly to cassette the initial jam happened in Austin/TX during my visit last year. In Katrina's studio she was fumbling the Yamaha DX 21, while Josh nibbled on the filter of the Roland SH-101 and me – spastic on the RZ-1. How the siren got on that tape I have no idea, since it was also from the SH-101. Because I don't remember overdubs. Dunno.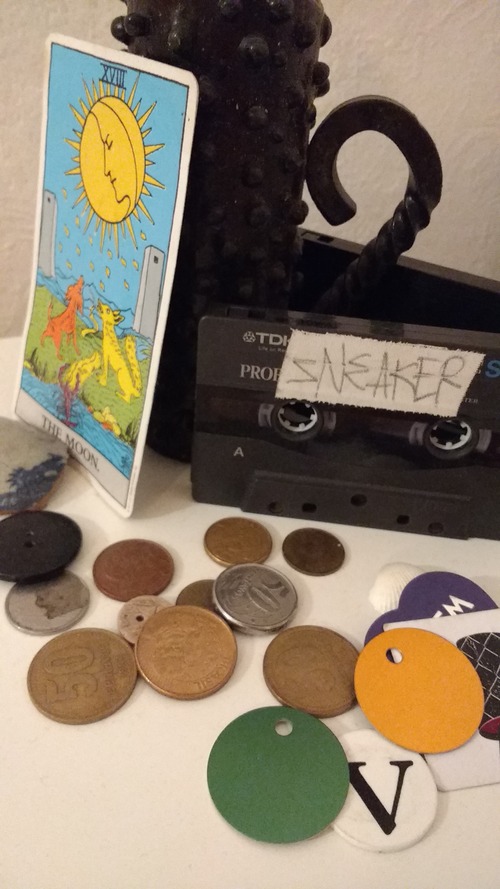 However I edited, restored and mastered the real noisy jam in Berlin throughout the last year. The idea to add a rollercoaster ride of samples on top I had already on my way back from Austin. I remember whispering stupidities to my phone in NYC. Notes that turned out to be a good base for what came after: I dug through all my archive and collected a pre-selection of samples from old house accapellas, own productions and 8bit libraries from the web. Despite the slow speed of about 110 bpm this "ghost train" of a track is a deep bow facing the rich history of house music – mainly the one in NY, NJ and Chicago.
A RVDS & Sneaker – Inside Me
Reel to reel transfer by tailout studio.
B Katrina Fairlee, Joshua Cordova & Sneaker – Geist Bahn
Released by:
FIT SOUND
Release date:
3 May 2019
Pre-order the 12″ here:
Bandcamp/US
Juno/UK
HHV/DE
decks/DE
deejay.de/DE
OYE/DE
Clone/NL
Red Eye/UK
Phonica/UK
LeDisque/FR
Digital: