Tag Archive for 'Dunkeltier'
On occasion of the upcoming EP of edits named "Dunkeltier macht Spaß!" on Reach Another System we need a release party – here we are!
Bordeaux based Jann presents a show on French Ola Radio. For the 10th edition he invites Ober Mannkind & my alter ego Dunkeltier to provide a mix and we countered with a fresh and uplifting mix of minimal synth and NDW.
Afficionado Jann is he introduced the show with during the 1st hour with a matching, but more eclectic mix of vintage songs.
All snippets HERE!
Independent labels have always been risky ventures, marred by uncertainty; you never know how long they'll last for. Yet, for more than 15 years, Cosmo Vitelli has kept I'm a Cliché going. During this time, his label, its releases, and the artists behind them have found their place in the musical landscape, standing proudly and defiantly in the margins, a place where music is always more interesting and fluid than right in the middle of the spotlight.

After countless EPs, several albums and a compilation, a new chapter in I'm a Cliché's story begins, one with a greatly reduced release schedule. To mark this turning point, the label releases Bongo Beats & Bankruptcy, its second compilation ever.

Aesthetically coherent and simultaneously diverse in its expressions, Bongo Beats & Bankruptcy is a celebration of the label (and the label manager's) quirks and eccentricities and a tongue-in-cheek snapshot that brilliantly captures the label's DNA, featuring friends and allies along with newer faces on 13 exclusive tracks scattered over 3 LPs.

Whether they are downtempo, uptempo or ambient like Orestt's contribution, each tune on this compilation distills in its own idiosyncratic way I'm a Cliché's essence: electronic music influenced by club culture but in no way constrained to the dancefloor. Ivan Smagghe & Marc Collin's analog synth track by their acclaimed Volga Select project, June's dreamy tune at the crossroads between wave and kraut influences, Coy's mutant synth arpeggios, and an old-school wave cut by Oliver Decrow mixed by Dunkeltier are all tracks boldly standing on the dancefloor's margins.

For those looking for club-ready tracks that with I'm a Cliché's one-of-a-kind atmosphere will surely find what they are after in an downtempo edit of Awkward Corners, a bouncy and melodic IDM not IDM number by Rouge Mécanique, a bleeps & pan-pipes affair by Benoît B, an esoteric dance-rock number with stated Lynch influences by Fantastic Twins, a freaky electro cut by Linja, a melancholic 707 driven banger by Krikor and finally an anxious and forward-thinking half-stepper by label head Cosmo Vitelli.
A1. Orestt – Luddisme
A2. Awkward Corners – In Slow Motion (Sunju Hargun Edit)
A3. Volga Select – Spione
B1. June – Perspective 4000
B2. Coy – La Cantine Du Vatican
C1. Rouge Mécanique – Skate & Distort
C2. Benoit B – Cosmic Music Style
D1. Fantastic Twins – Read My Palmer, Laura
D2. Oliver Decrow – Opus Pistorum (Dunkeltier Mix)
E1. Cosmo Vitelli – The Horse Incident (Ft. Andrew Claristidge)
E2. Odopt – Annpala
F1. Krikor – We as one in the S.D.T
F2. Linja – Xanadu
Pre-sale link: https://fanlink.to/bongobeatsbankruptcy
3xLP Cliche 067
release date: 3/27/2020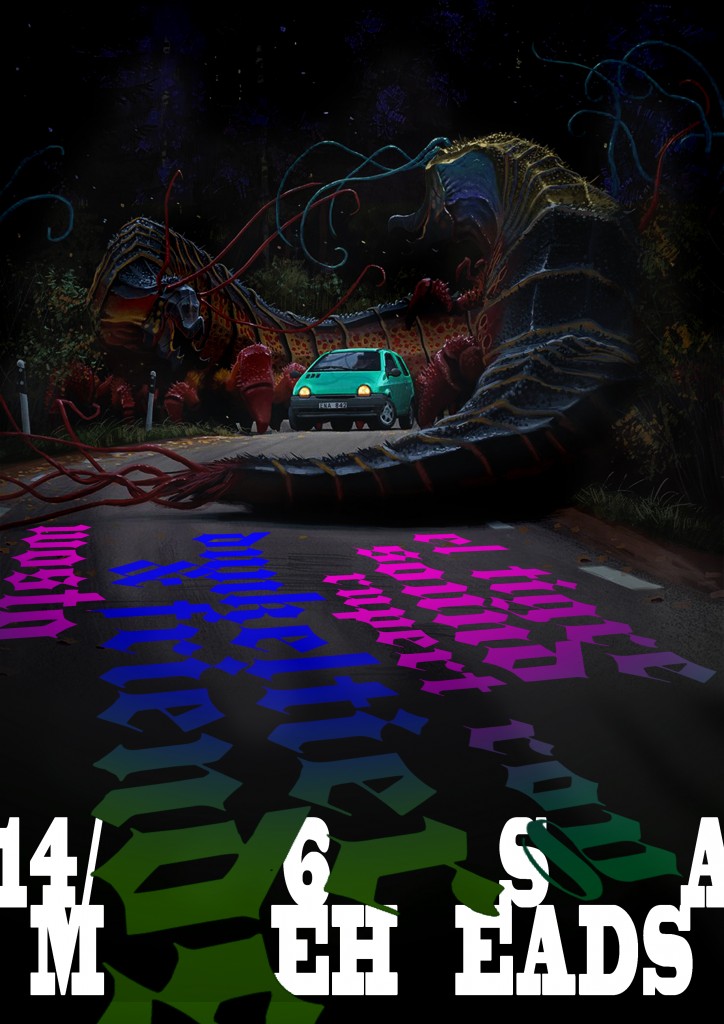 TRIBAL METAL – BIG BEAT – HOUSE NOT HOUSE – PROTO BODY MUSIC – ALTERNATIVE FUNK
Along my ways I've met a few great DJs with vast knowledge, long experience and even bigger record collections rather than a big name and I thought they would fit well to Sameheads.
So for my Friday night during the weekend of the NK Future III programme on the list we have:
Wosto (1/2 of Fallbeil, Teerpappe, Hamburg)
_______https://soundcloud.com/wosto
El Tigre Sound (DJ) (Klub Kegelbahn, zweikommasieben , Luzern)
_______https://soundcloud.com/eltigresound
Rupert Roy (Klub Kegelbahn, Luzern)
Dunkeltier (Rat Life Records, MOND MUSIK)
FB-event: https://www.facebook.com/events/614713599007588/
RA-event: https://www.residentadvisor.net/events/1274041
Expect unusual selections – even by Sameheads standards. I was psyched by the Electronic Tribal Slow Metal set by El Tigre Sound at the Camp Cosmic 2016. And if you listen to the Teerpappe releases – a label run by Wosto that exists only since 2017 – then you can be sure that the Hamburg Avantguarde tradition didn't stop. – In the best Hanseatic tradition of ZickZack, Walter Ulbricht Schallfolien, Asmus Tietchens and Felix Kubin.
You can leave your head at the wardrobe! Thank you!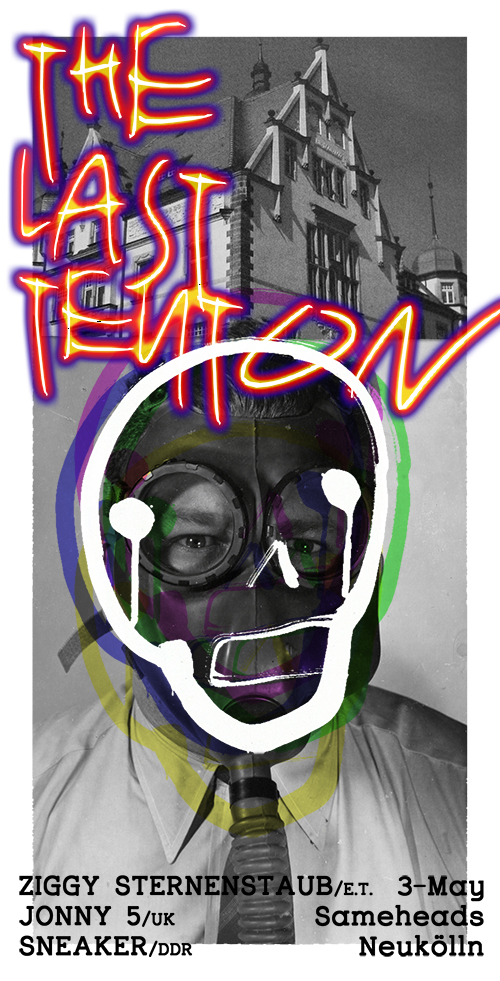 Und so friends, Ziggy invites.
Can you still tanz?
Trance Gigolo go go Bacalao!
Yo Let Her shouty Funk!
Amfobia neu Mörder!
Freaky Leaches schwer Dub!
Weltfrieden. Liebe Das Ende.
Auf Wiedersehen Panzer Peoples!!
Line-up:
Ziggy Sternenstaub (Bahnsteig 23) / E.T.
Jonny 5 (Bahnsteig 23 / Pleasure Wave) / UK
SneakerDJ (Uncanny Valley, FIT Sound / EST. 83, Bahnsteig 23) / DDR
Attend our FB-event! https://www.facebook.com/events/342952999901585
Attend our RA-event! https://www.residentadvisor.net/events/1251244