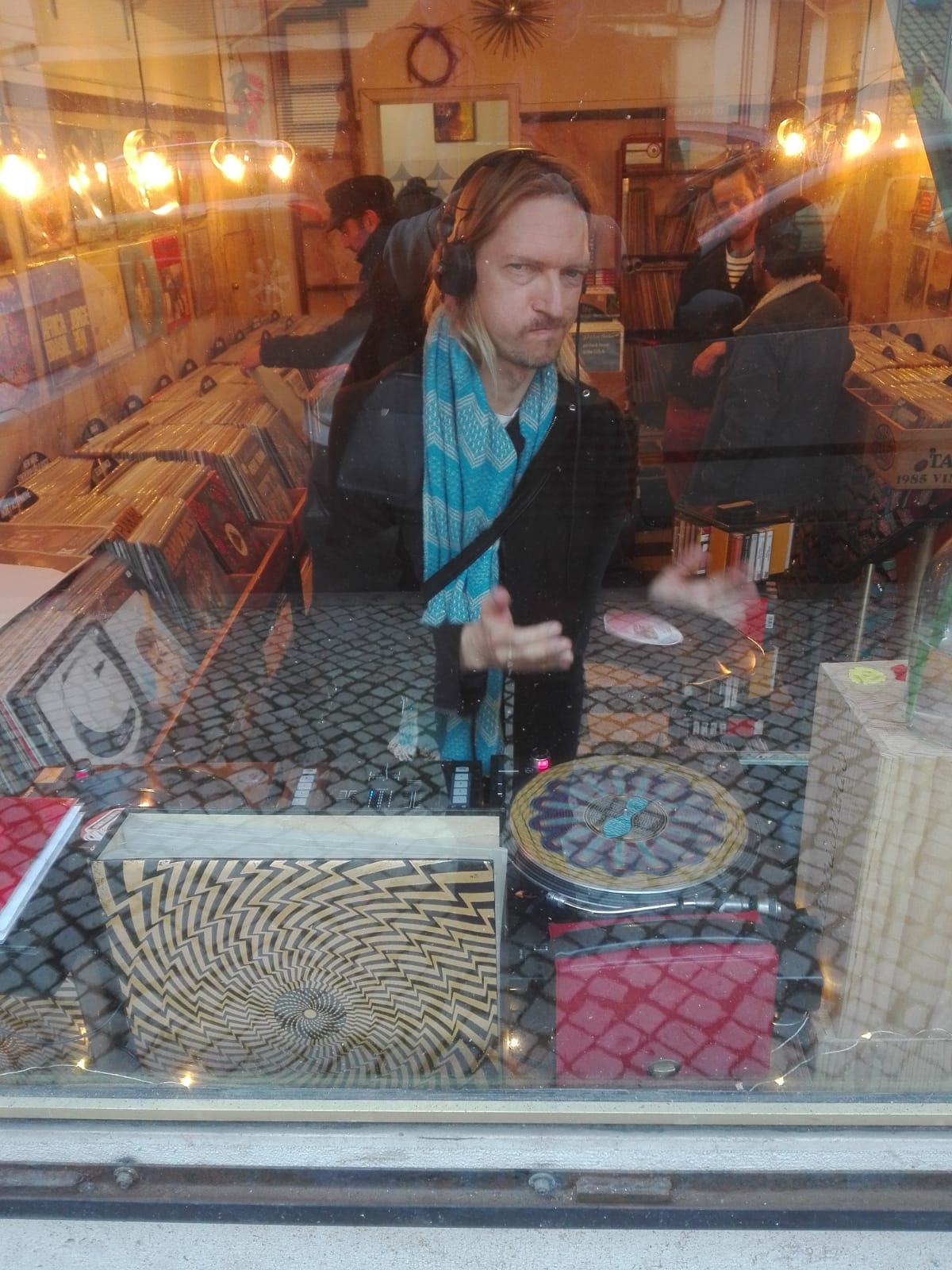 photo by Bionda
By (my) nature the opinion is subjective from the perspective of a lover of electronic dance music from the late 70s to the early 90s mostly looking into 12″ maxi singles and 7″s. The real find and bargain is all the Portuguese and Spanish licenses of Italo Disco that are still around and difficult to get hold on in remaining Europe without paying lots of shipping costs. I came back with 20+ records. It took us more than 5 days to cover all the following shops. Thanks to Bionda for flipping through thousands of 7″s and being patient with my little hobby during our actual vacation (well, it was my birthday trip, too).
Porto (link to vinylhub map)
Porto Calling: great 2nd hand shop with a 2€ 7″ section worth to dig into
Matéria Prima: artsy-fartsy, uber-curated, vast and bright basement shop on ethno music, obscurities, artist music, avant-guarde and related books (on sound-art) and magazines like I've never seen before. Certainly rather about sophisticated, musical explorations than dusty shelves and 1€-bins (there are none). 
Harborage, 8mm, Piranha: I haven't been there, so no judgement
Embaixada do Porto: close to nothing (a few records in a crate in a café) and not interesting at all
Discos Do Baú: knowledgeable digger who offers a wide range of well-curated sections, a lot of dance maxi 12″s (Italo, also Portuguese) at more than fair prices + a big, but rather uninteresting shelf of 7″s
Louie Louie: huge selection of 7″s & 12″ maxi singles, however I didn't find a thing, not the place to find a bargain
Vinyl Disc: the place to be (in the top floor of an apt. building) for Brasiliera, Italo + disco 12″s, all crammed into dusty shelves and at fixed prices (which makes it an opportunity for great bargains), the pensioner who runs the shop is a real Porto original and brasiliera DJ, who is very helpful – I suggest leave your sociophobia at home and make friends before you bargain
Muzak: a lot of 2€ dance 12″ (from the 70s until today) + a good, regular (-priced) dance section, great to find that obscure Italo-rave track from 1991 or suchlike.
The fleamarket called Feira de Vendoma at Av. 25 de Abril every Satuday isn't the real deal for diggers. Dig through an ever revolving queue of Demis Roussou, James Last, 80s pop hits compilations and Beethoven.

After Bionda picked this Portuguese 7″ at Porto Calling quite early Música Electrónica quickly became the anthem for our vacation (from the phone, though). The title sums it up pretty well, hehe. It's the magic of music that your moment, your days become so vibrant and memorable when you have a soundtrack whistling on your lips (or this lil' worm in your ear)!!!
Short note – we stopped half way to Lisbon in Coimbra – nothing to be found or worth to mention there! Besides the fabulous name Lucky Lux is a completely pointless record shop for my electronic taste (mostly contemporary, modern Indie … this obnoxious RSD vibe, you know!).
Lisboa (link to vinylhub map)
Tabato: small, cosy shop, wide selection, not too exciting
Megastore by Largo: small, but well-curated; less dance music, but the staff is very helpful to make you find your way, discogs prices, but you can listen, save shipping and check the grade of these Portuguese jewels
Discolecção: quite OK wide selection with the possibility of an unexpected find, low pricing and bargaining option, plus a surprisingly good selection of 2000+ dance compilation
Discoteca Lisboa: ca. 1000 records at 5€(you can't listen to! discogs them!), probably 80 of them are cheap (usual suspects) and cheesy Italo + 80s dance maxi singles, unlikely to find something out of the ordinary
Vinil Experience: tiny downtown shop in a second storey; nothing but Krautrock, progressive rock and Jazz, so not for me
Louie Louie: better and more spacious basement (no wi-fi) than their counterpart in Porto, less 7″s though, lots of Portuguese 80s disco maxi 12″s for 5€, but rather cheesy and probably not your kind of thing
3 shops in a downtown shopping centre:
Peekaboo:  The shop on the 2nd floor was closed the day I visited the shopping centre. However this might be the place to be for an eclectic, hip, urban mix of house, Italo, ethno, cosmic, rare grooves, synth, … you name it!
Carpet and Snares: contemporary "Portuguese" DJ fodder with a strange mixture of house, tech-house, techno and rave (so anything more EBM, leftfield or European disco is missing); also 2nd hand.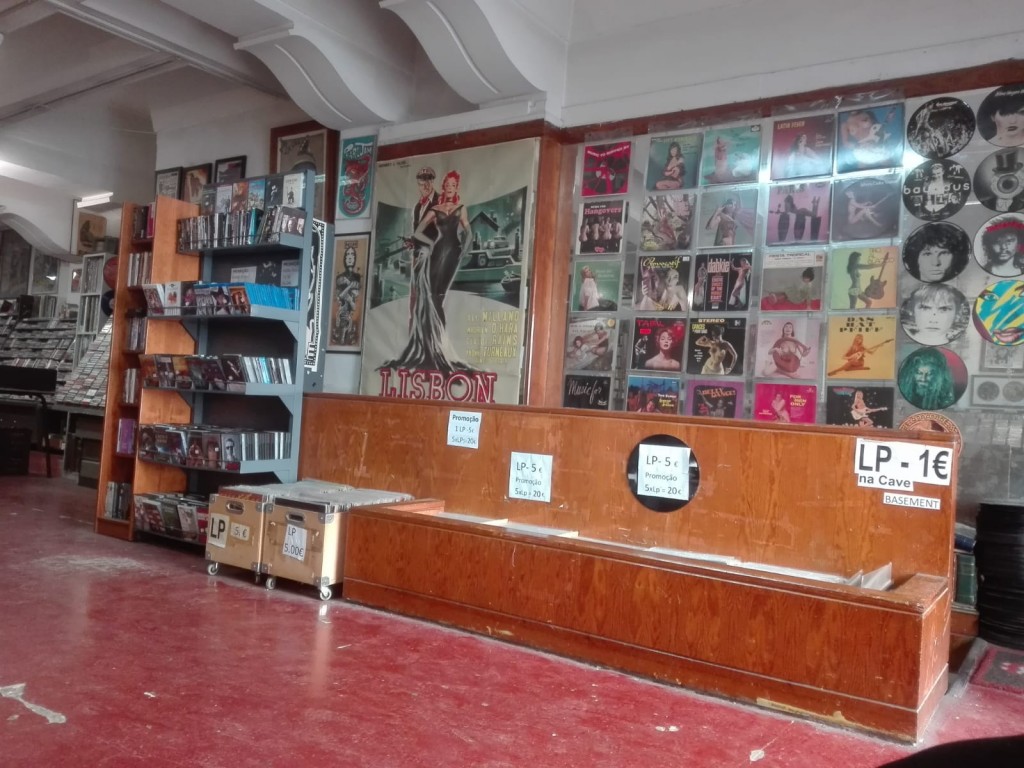 Behind the bench the 1€ cave at Collect.
Collect: all contemporary American (-styled) house records you can get on Clone or Rush Hour, caters to the local scene, but I can dig that just anywhere
Sound Club vinyl store:  an overpriced selection + thousands of 2€ records (you can't listen to! wtf? in question – discogs them!), who are not worth a penny more, a waste of time to hope for a find
Carbono: huge store on 2 levels, plenty of records to dig in; the whole basement caters to your 1€ bin addiction of 7&12″s to an equal amount (no wi-fi + no pre-listening on those – sit upstairs on the sofa to check them on your phone)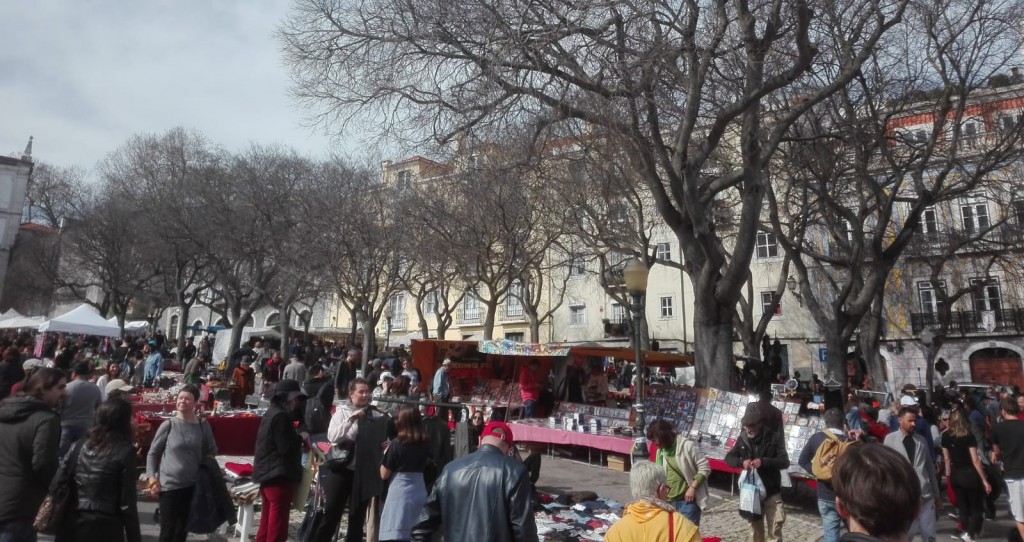 The flea market Feira da Ladra in lisbon is on Tuesdays and Saturdays. The records however – despite the fact that sellers hardly know their records – are overpriced (tourist scam), in bad condition and not worth to flip through.


The more often I listen to Xau Xau de Xangai the more I like this outstanding single in the otherwise neglectible discography of this Portuguese synth wave band. Thanks to the friendly staff at Megastore at Largo (Largo is the square and a community there at once)!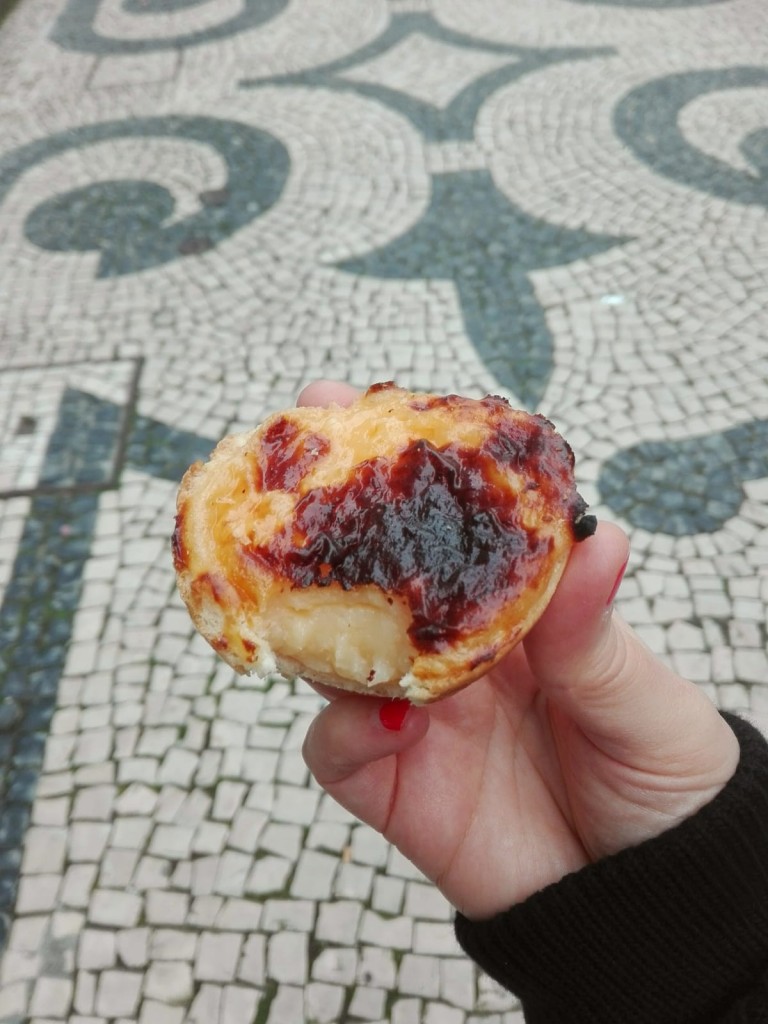 And now – after a long day of digging -
sit down & enjoy a
Galão
and a
Pastel De Nata
(or two)!


If you soon head rather to the east of beautiful Europe – here is my record shop guide for Thessaloniki: http://sneakerdj.com/thessaloniki-record-shop-guide/