MZKBX from Lyon hosts two labels which are Macadam Mambo Trax for artist EPs and Macadam Mambo Edits for – you know what.
The 'Dunkeltier rising' EP will feature 4 strong gestures unearthed from the vaults of vinyl digging and carefully treated by myself with a strong empathy for the artists intention and the todays need on the dancefloor (30y after!).




For different material I must have had different approaches -so the EP compiles edits, a remix and a restoration of the oh so often summoned hidden gems.
A1 is the most outstanding track in every sense and also featured the inner label artwork. All glory must go to Christian Peintner who I contacted by discogs for bringing this goodie back to the ears of another, our new generation.
He had found the ONLY KNOWN COPY (!!!) of the Kozmonaut LP 'Flieg' from 1986 in a local thrift store in the Bay area of California at a time when you couldn't google any info on it.
There was a name given on the record that pretended to be a German one – Hans Schiller. Faulty German lyrics and writing, a Bundesadler (German herald eagle) and the town of Hamburg should mislead the afterworld.
But Christian tracked down Peter Ziegelmeier (Hans' Kode IV partner/The Real Camouflage) via a copyright database and by his background info they solved the "Kozmonaut" mystery.


Hans Schiller (real name: Michael Gutierrez) moved from a small providence in Canada to San Francisco due to his sexual orientation. He was fascinated with electronic music and Germany in general (hence his artist's name). He converted his garage into a little recording studio and ran three different phone lines (artist, sexual orientation, legal name).
This record was his first release. He pressed a 1,000 copies of this record, but never sold it. He was a perfectionist and must have realized that his record was full of spelling mistakes the most striking one being "Seite 'Swei' instead of 'Zwei'". Hans ended up getting language cassettes to improve his German. He used those tapes extensively as samples for his second cassette-only release called "Hyko". This release wasn't distributed either. Right around this time is when he met Peter and formed Kode IV. In 1994, Hans returned to Canada being very sick from AIDS. After his death, all his records and cassettes that were stored in his garage were thrown in the garbage and his synthesizers, instruments, and recording equipment were sold for very cheap. Both his Kozmonaut recordings are nearly impossible to come by. "Hyko" has not surfaced to this day and may have been lost in time for good. The "Flieg" LP first surfaced in 2010.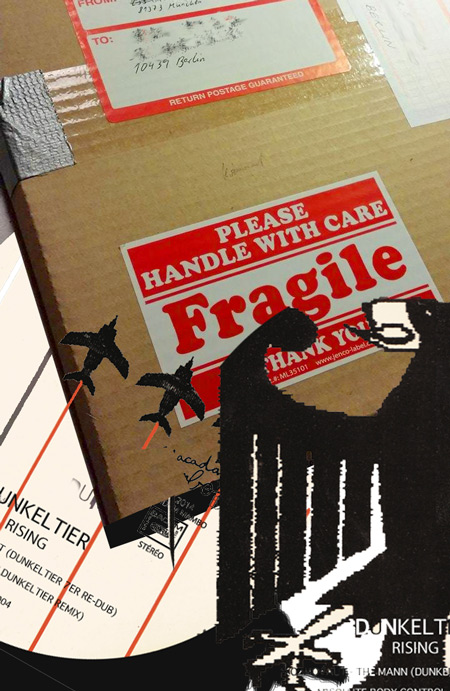 The passioned collector Christian is, he provided the record when he came to Germany for scans and an audio rip. Thanks, Peinti!
And thanks to MZKBX for his efforts in realizing the project of a vinyl compilation of Dunkeltier edits!