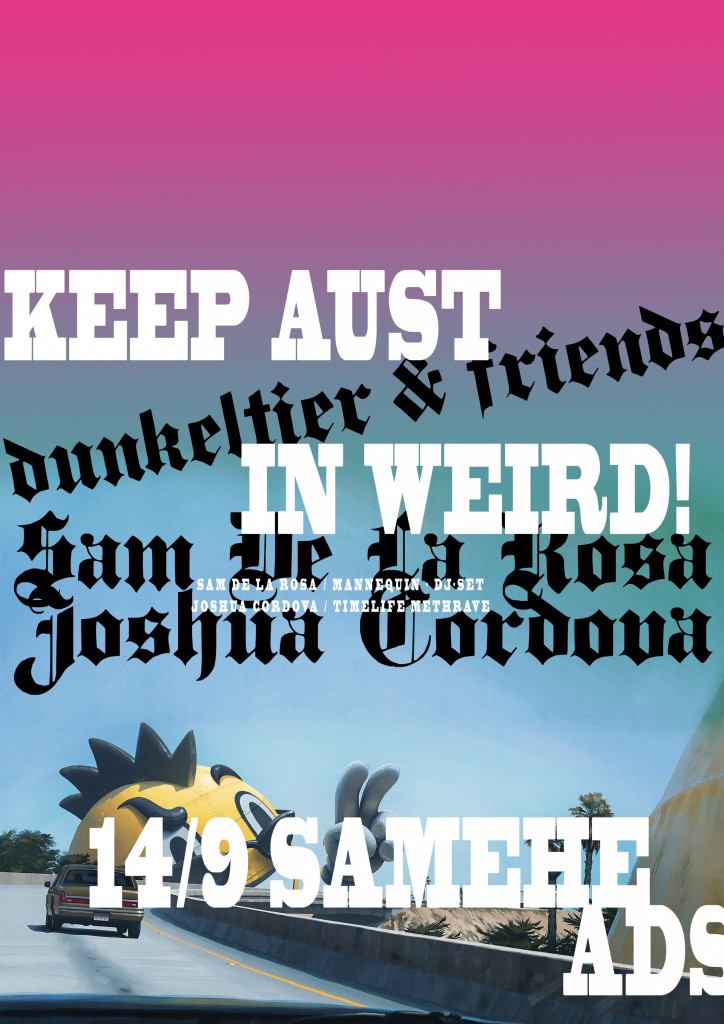 FB-event: https://www.facebook.com/events/313078592585935/
RA-event: https://www.residentadvisor.net/events/1154771
I've met these pals twice – of course in Austin. A different Texas. A lifestyle like a hedonistic, shabby South France (Kinda Tropical). Vast, spacious and hot urban landscapes. Time passes slow & quick at once. Your mind starts staggering. Days go by. And then you have to leave to the airport and you'll leave new friends and you take a bunch of demo recordings with you.

Sam De La Rosa DJ-set
(Mannequin)
www.soundcloud.com/samueldelarosa
www.residentadvisor.net/dj/samdelarosa
Singer, guitarist of the flagship group LED ER EST and duo The Coombe. Sam continues to make music solo with a clever mix of post punk, electronic hybrid music, experimenting, pop and catchy melodies. His last record was "Earth Wart, on Mannequin Records.

Joshua Cordova DJ-set
www.soundcloud.com/joshua_cordova
Currently based in Austin, Cordova brought a breath of fresh air into the local scene throwing his parties and booking some of the most interesting DJs from all over the world. He's a member of groups VCK, Future Blondes, an also have a duo with Katrina Fairlee called Permian Basin. Joshua will appear on the next compilation of Public System Recordings.

Dunkeltier DJ-set
(Bahnsteig 23, Macadam Mambo, ½GOTT)