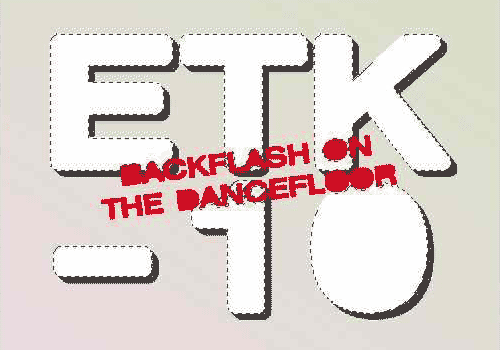 A reunion after 1 year to celebrate 10 years of partying together.
On the turntables we put what inspired us 10 years ago and just before the millenium! In my case this means Chicago disco house a la Paul Johnson, Henry Street, Relief, Cajual … plus the electro breaks and block-rockin' big beats I spinned for the breakdance crews at that time.

-
etk – 10 = ungefähr 2000, verstehste!
na klar, oder wo warstn du eigentlich am 21. märz 2003?
wir waren hier, im cafe wagner, über uns das tarnnetz, unter uns der jungfräuliche parkett-tanz-boden. strobe an, strobe aus. aber warum eigentlich. elektronische amüsier musik spielte wohl eine zentrale rolle. welche, dass war noch nicht so ganz klar.
wenn du da warst dann wusstest du das. was du nicht wusstest, war, was sich wohl daraus entwickeln würde. das konnte ja keiner ahnen. das hat uns schwer beeindruckt. das war schön.
wenn du nicht da warst, dann hatte das sicher einen guten grund – ne kranke katze, heimweh nach der ersten vorlesungswoche, ne wirklich schlimme geburtstagsparty. vielleicht wurdest du später auf das E das T und das K und das kreuz-logo aufmerksam und eventuell hast du mal reingeschaut oder bist sogar drauf hängen geblieben. das hat uns inspiriert, motiviert, ein schmunzeln auf die lippen betrieben.
oder du wusstest eigentlich noch nie, was das sein soll – ETK. oder du konntest dir nicht vorstellen wie das gehen soll, so ne musik im wagner, oder du fandest uns einfach nur so doof. dann lieber freund hast du leider was verpasst, aber hey – heute abend ist deine chance nochmal von anfang an dabei zu sein. oder besser gesagt sogar noch davor!
wir drücken den reset knopf und zählen zehn jahre rückwärts, pusten den staub von unseren plattensammlungen und schauen mal, was das war, was für mucke uns dazu getrieben hat, uns schweißtreibende nächte um die ohren zu hauen. so richtig weiss das keiner mehr, aber wir erinnern uns eins: das war fett!
in feinster marty-mc-fly-manier reisen wir zurück in die zukunft. unser timer steht auf ca. 1999. lasst uns also nicht nur melancholisch in erinnerungen schwelgen, lasst uns etwas wiederbeleben – stimmungen, gefühle, rauschzustände, ekstase!
die passenden und unpassendsten klänge dazu liefert euch die ganz rasselbande vom ETK – voll bunt in no retro, new retro, next retro:


- Jaycup (broken beats, deep house)
- Macoma (tech-house, elektro-funk, big beat)
- Apu (tekkno)
- Säschie (nujazz, phuture funk)
- SneakerDJ (chicago house, blok rokin' beatz)