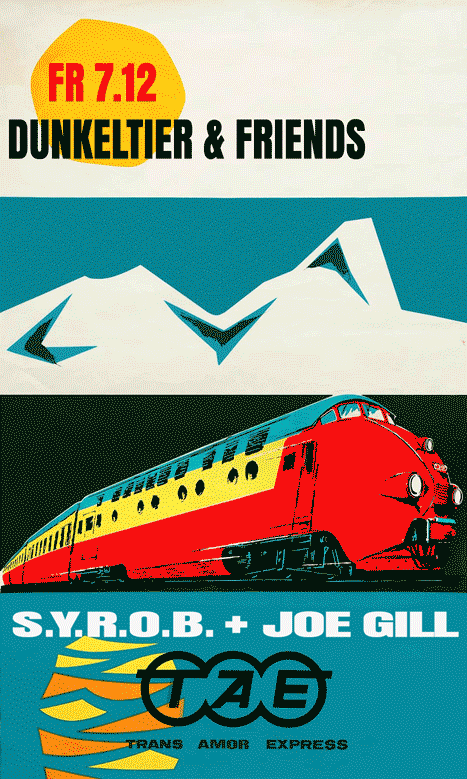 ❤❤❤ ❤❤❤ ❤❤❤ ❤
Trans Amor Express
❤❤❤❤❤❤❤❤❤❤❤❤❤❤❤❤❤❤❤
S.Y.R.O.B. (Copilote, 101 / Clermont-Ferrand, France)
Joe Gill (Macadam Mambo, Outlaws Yacht Club / Leeds, UK)
Dunkeltier (Bahnsteig 23, Macadam Mambo, Rat Life / DDR)
❤❤❤❤❤❤❤❤❤❤❤❤❤❤❤❤❤❤
S.Y.R.O.B.
https://www.facebook.com/syrob1O1/
35y earlier …
a young teen explores the New Romantics! Visage, Fad Gadget and Depeche Mode among his favorites.
10y later …
as a resident DJ Syrob slowly converted a former, 'historical' rock venue into a unseen electronic outfit in the Auvergne region.
Each of his sets at 101 is a story in its own right. He tought the local youngsters not only to dance, but also to listen, to learn and to discover in oneself, a certain exigency, an attitude, a passion which reflects the soul of this electronic culture.
tonight …
Syrob finds an original and singular signature, mixing the darker aspects of the new-beat, the melancholy of the cold wave, the roughness of other industrial pearls, the powerful rhythms of contemporary techno, futurism , SF imagery and the hope of the Dutch electro sound and Detroit.
Joe Gill
http://outlawsyachtclub.com/
Outlaws Yacht Club is the Sameheads of Leeds. So of course there has to happen some interchange with owner & DJ Joe Gill.
Outlaws is a place where the oddball spirits in Leeds are embraced. Joe's curation of the bar-come-club, and its striking artwork from Jonny Cosmic, mirrors a self-confessed weirdness that gives Outlaws its own unique musical agenda.
Joe's band Zmatsutsi, formed with Tim Hutton and Heidi Armitage, has released 2 records, the later being the LP 'Hooked Up' on Macadam Mambo. Roaming around left field territory they deliver a mixture of s'mazing slow beats tracks, a bit like Rimini was meeting Dusseldorf in a Golf VR6.
❤❤❤ ❤ ❤❤ ❤❤❤ ❤❤ ❤❤ ❤ ❤❤❤ ❤❤