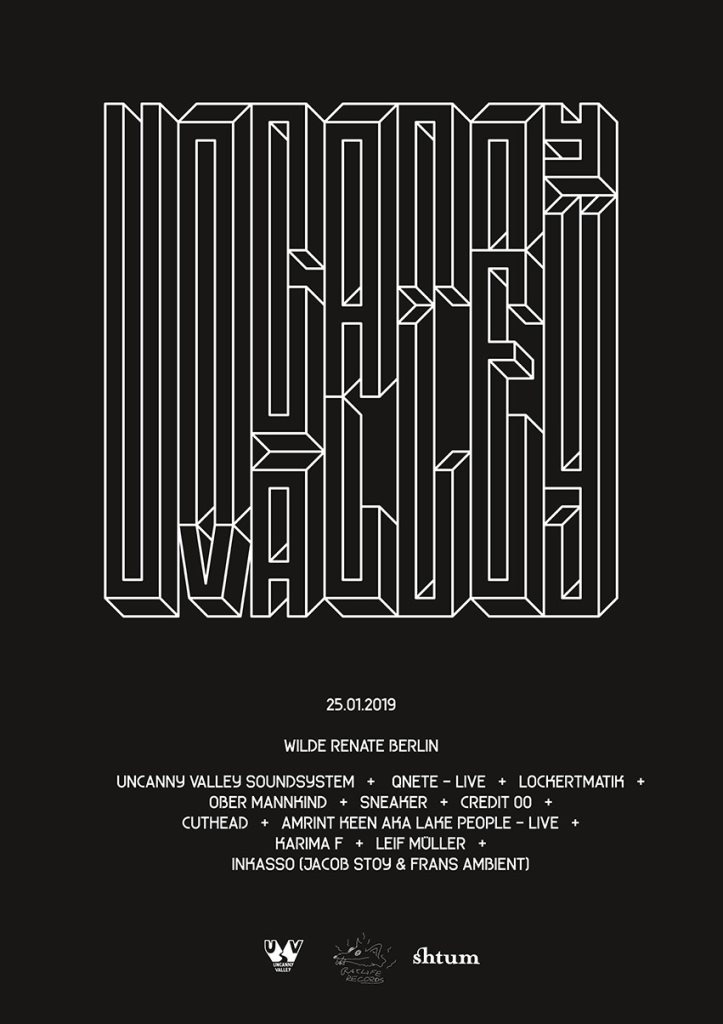 incredible line-up:
Amrint Keen (live) (aka Lake People)
Cuthead (uncanny valley)
INKASSO (Jacob Stoy & Frans Ambient)
Karima F (schloss rec)
Leif Müller (common sense people, shtum)
Lockertmatik (Lockertmatik)
Qnete (live) (777 recordings, lobster theremin)
Uncanny Valley Soundsystem (uncanny valley)
Rat Life floor:
Credit 00 (uncanny valley)
Sneaker (frigio, uncanny valley)
Ober Mannkind (mond musik)
With both of its sub-labels: Rat Life and shtum, and of course a supreme line-up, the Uncanny Valley imprint takes over Wilde Renate again and brings the finest of a diversity of styles to Berlin. Carl Suspect, Conrad Kaden and Philipp Demankowski, three of the four label-founders, start the whole session with their dj-set as Uncanny Valley Soundsystem in the black room. They go on with the live-set of Qnete, who was in charge for the current release on shtum, which followed right his lp "Play-Doh Stories" on 777 Recordings the last year. shtum's long-term buddy Lockertmatik burns down the floor afterwards with some heavy techno workout. Parallel to this Lake People will introduce his new alias Amrint Keen upstairs in the Red Room, after the opening-set of Leif Müller, known for regular b2b-sets with his fellow Konstantin Siebold. Same time the Rat Life label concentrates on the Green Room: beginning with Dresden's well-kept DJ secret Ober Mannkind, present Credit 00 and Sneaker their edgy soundscapes here.