Kess Kill Records started in 2016.
Run by Rivet.
Qu'est-ce qu'il fait chaud?
Event on the website of Berghain: http://berghain.de/event/2552
FB-event: https://www.facebook.com/events/250331448961980/
RA-event: https://www.residentadvisor.net/events/1158771

running order:
23:59 – 04:00 Sneaker (Dunkeltier styled set – i.e. dark & obscure)
04:00 – 05:00 Tolouse Low Trax LIVE
05:00 – 06:15 Five o'Clock Traffic LIVE
06:15 – 07:XX Broken English Club LIVE
07:XX – End Rivet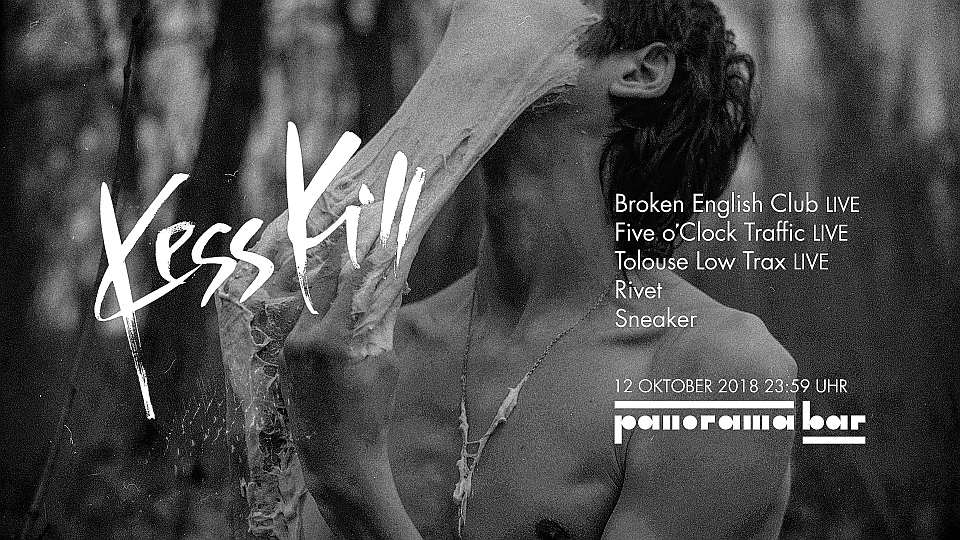 Zur heutigen Kess Kill-Labelnacht in der Panorama Bar kommt Rivet mit drei Live Acts, die zwar nicht hauptsächlich mit seinem Label assoziiert werden, aber bestens zu dessen musikalischen Profil passen. Broken English Club ist das Industrial-Dance-Projekt von Oliver Ho, der mit White Rats im Juni ein beachtliches zweites Album auf L.I.E.S. veröffentlicht hat, von J. G. Ballard inspirierte Dystopien zwischen morbidem Synth Wave und epischen Drone Tracks. Five o'Clock Traffic wiederum hat bisher hauptsächlich auf dem schwedischen Label Börft Records veröffentlicht, es sind New Beat-beeinflusste, minimale Post-Pop-Tracks, die auf hohen Heels über den Dancefloor staksen. Der Düsseldorfer Tolouse Low Trax wiederum ist natürlich eng mit dem Salon des Amateurs und seinem Spannungsfeld aus Wave, Krautrock, Psychedelica und Techno verpflichtet, wie man wieder einmal sehr schön auf seinen letzten Platten auf Antinote hören konnte.